Free Ride Home, Free T-Shirt, Free Hugs
WELCOME, TO THE HOME OF THE FREE LAS VEGAS BAIL BONDS ADVICE. FREE RIDE HOME AND FREE LAS VEGAS BAIL BOND DELIVERY TO ALL LOCAL JAILS INCLUDING, NORTH LAS VEGAS JAILS AND HENDERSON JAILS. GET YOUR FREE LAS VEGAS BAIL BONDS ADVICE TODAY! WE ARE YOUR HERO WHEN IT COME TO BAIL BONDS IN LAS VEGAS, HENDERSON BAIL BONDS, NORTH LAS VEGAS BAIL BONDS AND ALL OF THE LAS VEGAS VALLEY JAILS AND LAS VEGAS COURTS. IF YOU MISSED A REQUIRED COURT APPEARANCE AND HAVE QUESTIONS, DO NOT HESITATE TO CALL. IT COULD SAVE YOU FROM BEING PLACED BACK INTO CUSTODY.
Bail Bonds Las Vegas FREE T-Shirts
GOODFELLAS BAIL BONDS FOR A LAS VEGAS BAIL BONDS IS AN ACTIVE PARTICIPANT IN CLOTHING THE HOMELESS OF DOWNTOWN LAS VEGAS WITH FREE T-SHIRTS TO ANYONE WHO STOPS BY, 42 S.WATER ST, HENDERSON NV 89015 OR CALL 1-877-384-5245 (JAIL) TOLL FREE AND TALK TO GINO CARUSO, OR ANY MEMBER OF GOODFELLAS BAIL BONDS LAS VEGAS FRIENDLY STAFF. ANYONE WHO IS ELIGIBLE FOR LAS VEGAS BAIL BOND CAN CALL GOODFELLAS BAIL BONDS TO INQUIRE ON WHAT THEY NEED TO BE BAILED OUT OF JAIL.
Bail Bonds May Require A Co-Signer
SOMETIMES WITH NO COSIGNER, BUT IN MOST CASES A COSIGNER IS REQUIRED IN LAS VEGAS. THE LAS VEGAS BAIL BONDS SCALE HAS BEEN RAISED ON MOST CHARGES. FOR THIS REASON, GOODFELLAS BAIL BONDS, "FORGET ABOUT IT," OFFERS INTEREST FREE FINANCING O.A.C. THIS WEBSITE CONTAINS LINKS TO ALL JAILS INCLUDING CCDC (CLARK COUNTY DETENTION CENTER), NORTH LAS VEGAS DETENTION FACILITY, LAS VEGAS CITY JAIL ON STEWART AND MOJAVE AND THE HENDERSON DETENTION CENTER (WE NOW HAVE A PHYSICAL LOCATION at 42 WATER STREET TO SERVE YOUR ,WE NEEDS CALL
702-566-6161 ALL DAY OR NIGHT).
HENDERSON BAIL BONDS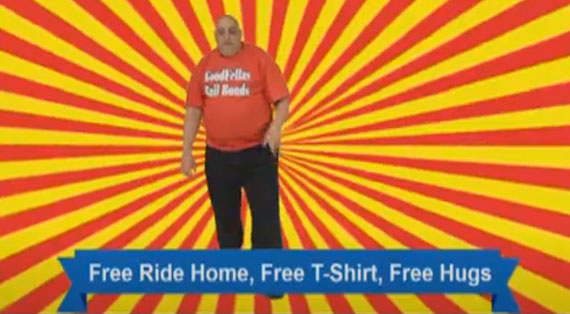 Ben The Runner RIP We are gonna miss you Buddy
Call Anytime Day Or Night For Free Help
PLEASE GIVE US A CALL AT 702-384-5245 (JAIL). GOODFELLAS BAIL BONDS WISHES EVERYONE A SAFE AND ENJOYABLE YEAR
What Our Customers say
I would really like to express my appreciation for your employee Bobby. He was very pleasant and very knowledgeable. I had to wait there about an hour for Fernando's (the defendant) attorney to call me with some further information and throughout my wait he made sure I understood what exactly was going to occur once bail was posted. Please let him know I say thank you for making it so easy. Have a great day,

I used their service in the past month and it was great. Quality service from the first call to signing the final paperwork. But Tammy – you owe me my free hug, that I didn't receive. LOL If anyone you know needs a great Bail Bonds service – Who you going to call — GOODFELLAS that who.

I would like to tell you that you have one of the nicest most helpful people I have ever met, AC. If it wasn't for AC's help I think I would have lost my mind out there. Long story short I went through one of the worst times of my life .. I was arrested for a domestic dispute with my crazy ex-fiance, I never hit her but the police took me to jail anyway. My family in Ohio contacted you guys to bail me out but I already took a deal to get released because I didn't know my mom spoke with AC. After getting released I lost everything.. I spent everything I had to move to Las Vegas and everything I owned from clothes to a phone charger were all in her house. AC took time to help me try to get my belongings, helped me get a hold of friends and family from Ohio, get a meal and helped me get to the western union if it wasn't for his help I don't know what I would have done. It made me see there are really nice people in the world and to make a friend in such a bad time really helped. So I want to say thank you again to AC and let the company know he's a great guy.

Joe M.
Is Your Information Confidential? Yes!
MANY TIMES PEOPLE ASK IF THE INFORMATION THAT THEY PROVIDE THIS COMPANY IS CONFIDENTIAL. THE ANSWER IS YES, ONE HUNDRED PERCENT CONFIDENTIAL. THIS INCLUDES ANY COSIGNERS, DEFENDANTS AND ANYONE ELSE THAT IS INVOLVED IN THE TRANSACTION. CALL GOODFELLAS BAIL BONDS A LAS VEGAS BAIL BONDS COMPANY OPEN TWENTY FOUR HOURS A DAY FOR ANY BAIL BOND LAS VEGAS ADVICE, ON ANY CASE NATIONWIDE. WE ARE THE PEOPLES FIRST CHOICE FOR LAS VEGAS BAIL BONDS IN LAS VEGAS AND NATIONWIDE SINCE 1999. PLEASE READ ALL FORMS BEFORE SIGNING THEM. IF YOU HAVE ANY QUESTIONS ABOUT THE LAS VEGAS BAIL BONDS PROCESS.
Hear our latest commercial on IHeart Radio and 97.1 The Point.