Welcome to GOODFELLAS BAIL BONDS; "Forget About it". BAIL AGENT GINO CARUSO, LICENSE #71341 BY THE STATE OF NEVADA DIVISION OF INSURANCE, is on A mission to help people through a very stressful time in the most efficient and friendly manner while offering as many FREE services that we can provide. Our FREE services include, A FREE ride home, FREE T-Shirts, FREE bottled water and now we are happy to offer a FREE hug to anyone who feels that they might need one to People who call us and are in a very stressful situation and need some help.
We are very friendly, considerate and efficient at our Job. A defendant can be bailed out of jail much faster using this website. If you are willing to take a few minutes to fill out the LAS VEGAS BAIL BONDS FORMS AND FAX THEM OVER . One of our agents can process the information via e-mail or fax and promptly. We will then call you back with some good news. The fees required are 15 percent of the bond amount (this is a NEVADA STATE LAW as of OCTOBER 1, 2003). This is depending on the individual case collateral is rarely required.
You Can Contact Us In Henderson for Bail Bonds Help.
When you find yourself in the position of contacting a Henderson bail bonds company it is a normal emotion to be afraid and concerned about what to do next. Anyone can make a mistake. So, when you are arranging for a bail bond to be put up for a friend or your loved one, you will appreciate the help that we will give you. We make going through the bail bonds process easy for you. To search for an inmate in Henderson go to this Click Here: Henderson Inmate Search page.
Completing the Proper Bail Forms.
It is very important to submit a good bail bonds application. If you are a cosigner please complete, in detail, the application as you would if you were applying for any kind of loan. This will make it easy for both parties. As long as the defendant attends court on time the loan goes away. Remember, all information must be true and is confidential. By submitting your application you are giving permission for our agents to verify. You and the agent are the only ones with access to this information.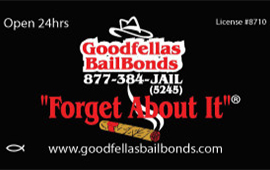 If you would feel more comfortable talking to a live person, you can call us toll free 24/7 at 1-877-384-5245 (jail) In Las Vegas 702-384-5245 or for Henderson Bail Bonds needs call 702-565-0988. Remember, you are innocent until proven guilty. "Your freedom is our job." Thank you. God Bless you and we hope we can help you through your time of trouble so you can eventually: